Halloween is a time for spooky fun and sweet treats, but it doesn't have to be all about sugary candy and indulgent desserts. If you're looking for some healthier and creative Halloween snack ideas to enjoy with family and friends, we've got you covered. These snacks not only embrace the festive spirit of the season but also offer a healthier twist to keep your nutrition goals on track and avoid unnecessary blood sugar spikes.
Gluten-Free Pumpkin Chocolate Swirl Muffins 
Indulge in the flavours of the season with these gluten-free pumpkin chocolate swirl muffins. The blend of pumpkin and chocolate is sure to satisfy your Halloween cravings without compromising on taste or health.
To the recipe: https://www.eatingbyelaine.com/vegan-and-gluten-free-pumpkin-chocolate-swirl-muffins
Zombie fingers
Prepare to be delightfully spooked this Halloween with our eerie and delicious "Zombie Fingers." These creepy treats are not only a visual trick but a delightful treat that's perfect for a Halloween party or simply to satisfy your sweet cravings during the season. Made with wholesome ingredients, these spooky "Zombie Fingers" are frighteningly easy to make.
To the recipe: https://recipesfromapantry.com/halloween-party-favors-zombie-fingers-vegan
Soot Sprite Halloween Cookies 
Bring a touch of Studio Ghibli magic to your Halloween celebration with soot sprite Halloween cookies. These delightful, dark-as-night treats capture the essence of Halloween and the charm of Miyazaki's films. Plus, they're gluten-free, making them accessible to a wide range of guests with dietary restrictions.
To the recipe: https://iheartumami.com/soot-sprite-halloween-cookies
Spooky Spider Deviled Eggs 
For a savoury snack that's both spooky and scrumptious, try your hand at making these spooky spider deviled eggs. They are a fun and eerie twist on a classic party favourite. Filled with a creamy and flavorful egg yolk mixture, they'll quickly become the centre of attention at your Halloween gathering.
To the recipe: https://deliciousasitlooks.com/2013/10/halloween-spooky-spider-deviled-eggs.html 
Monster Fruit Platter 
If you want to keep things light and refreshing, a monster fruit platter is the perfect choice. From clementine pumpkins to apple monsters with sharp teeth, this creative platter turns fruits and veggies into adorable and slightly eerie Halloween characters. Not only is it a feast for the eyes, but it's also a nourishing snack that both kids and adults will love.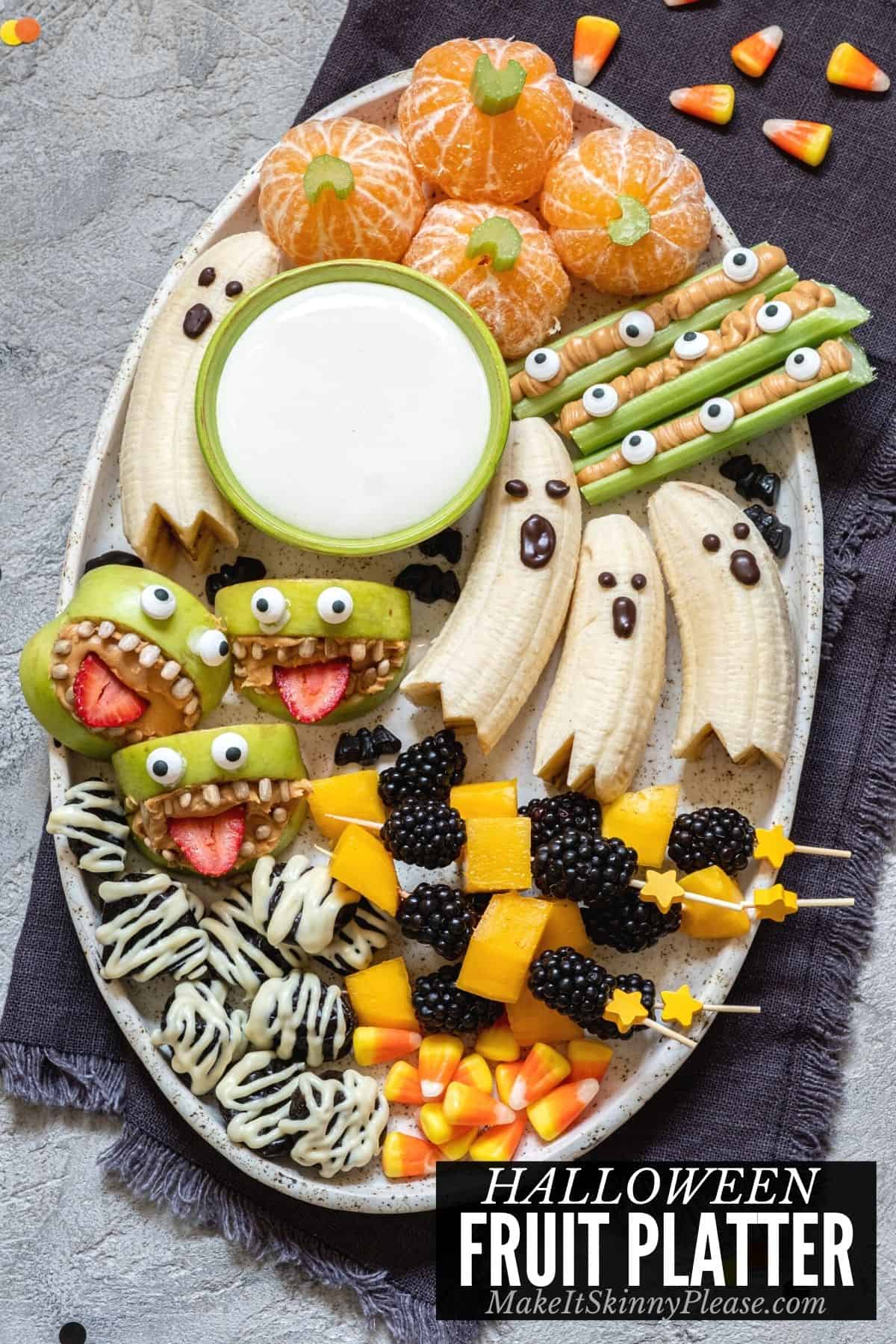 To the recipe: https://makeitskinnyplease.com/healthy-halloween-fruit-platter/#wprm-recipe-container-2040 
This Halloween, you don't have to sacrifice health for fun and flavour. These creative and wholesome snacks offer a delightful twist on traditional Halloween fare and provide a healthier alternative for you and your guests to enjoy. Happy
Halloween snacking!